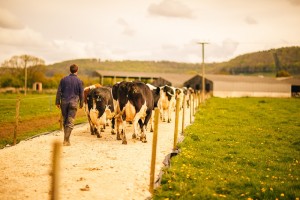 WMG, at the University of Warwick, is spearheading a national research study to highlight the crucial role supply chains play within the British economy.
As pressure mounts for the UK to hit its already downgraded 2015 GDP growth forecasts, the importance of maximising Britain's industrial output has once again come into focus, with supply chains forming a fundamental part of this process.
The online study, which is being led by WMG Professor of Operations and Supply Chain Strategy, Janet Godsell, launched, mid July, at www.mychainreaction.co.uk and has been designed to uncover our knowledge and understanding of what a supply chain is, and how we as individuals are an integral part of supply chains up and down the country.
Professor Godsell explains:
"The issue of supply chains is of national importance. Supply chains are key in supporting economic growth, contributing to increasing both GDP and employment levels. Currently however there is a real disparity between the significance of supply chains and the level of understanding amongst both key business figures, political leaders and the wider population about what a supply chain is and why they matter. Supply chains touch almost every aspect of our daily lives but many of us don't know or realise this and we want to know why.
"With the launch of this study, we hope to put supply chains firmly on the corporate and political agenda by informing the future development of supply chain strategy and policy. As part of this we are also keen to highlight the importance of working within a supply chain, encouraging the next generation of school leavers to consider this as a viable and attractive career prospect."
The project is innovative in its design as it combines the principles of crowdsourcing, social networking and storytelling in order to both generate research data and increase public engagement and understanding as more and more people take part. Taking part involves answering a few of simple questions about your knowledge of supply chains and includes an invitation to share your mychainreaction story by explaining how you interact with supply chains. The research team hope that participants will spread the chain reaction as far across the world as possible and by doing so help to achieve the target of 1,000 respondents by the end of the project.
The mychainreactionsite  features an engaging example of a local supply chain, bringing to life the supply chain story of Stroud based ice cream manufacturer Kate Lowe. In addition, visitors can explore the Story Map, a dynamic mosaic and digital map of all the mychainreaction stories which grows in real time as people join in. To participate simply visit www.mychainreaction.co.uk  and click on the Add My Story tab.
The project will also feature a response to the project themes and emerging stories by local artists and/arts organisations, who will be invited to respond to an open call for commissions administered via Warwick Creative Exchange (http://www2.warwick.ac.uk/fac/cross_fac/warwickcreativeexchange/). Their work will be showcased at the Global Supply Chain debate to be hosted at the International Digital Laboratory when the project ends at the University of Warwick in November 2015.