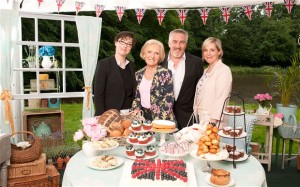 With the third episode of this season's bake off airing tonight what will it inspire you to bake and perhaps more importantly buy to bake with.
When the show started back in 2010 no one expected that it would generate such a surge in sales of baking equipment.
Sales of baking trays at Waitrose soared by a remarkable 881% in the week to 1 August, while sales of bakeware climbed 55% in advance of the new series of the BBC 1 baking contest.
At Currys, meanwhile, sales of kitchen machines soared by 35% in July versus June, as shoppers geared up for the return of the show.
The Bake Off effect was also visible online, with the number of searches for baking-related items, including baking trays, up 116% in the week leading up to August 2, compared with two months before.
Interest in baking products began to increase around July 16 – around the time the show's trailer launched, according to online retail consultancy Summit.
Bake Off, which regularly broadcasts to more than nine million viewers, has energised home baking sales in the UK since it debuted in 2010. Annual sales have risen from £523m in 2009 to £1.7bn in 2014, according to market researchers Mintel.
Last year, online grocer Ocado reported a 300% increase in demand for brown sugar during Bake Off's nine-week run, along with a 10% rise in sales across its home-baking category.