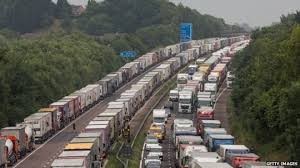 As the dust settles on the recent M20 chaos, Operation Stack threatens continuing misery for hauliers, holidaymakers and local homeowners alike.
Indeed, it seems that whether you are a consumer trying to escape for some summer sunshine, a driver destined for a crossing to the continent or simply a local Kentish resident or business owner the impact of Operation Stack is being felt on a daily basis.
And with no signs of the numbers of migrants hoping to make their way to the UK easing, it begs the question of whether more could be done to minimise the chain reaction from the Calais crisis? Whilst such unprecedented circumstances could never have been foreseen, they undoubtedly demonstrate the importance of supply chains and how crucial they are for dealing with such an issue.
Supply chains affect each and every one of us and the more robust your supply chain is, the less likely you are to feel the full impact of crisis situations like Operation Stack, whether it is diversifying your routes to market or looking at alternative means of travel.
For your say or to tell your story of how you have been affected by the Calais crisis visit the mychainreaction website at https://mychainreaction.co.uk to add your story.